*Note* As many of you might have noticed (okay, as everyone has noticed), the Sony PSN is down due to hackers. A large part of this game is the co-op portion. I could have reviewed the co-op via the split screen mode, but I would prefer to try out the online functionality (The PSN/Steam crossover is of particular interest). I say all this because Vagary will be doing the single player review separate so that we can give you, the reader, an accurate picture of the game while still coming in a timely matter. So, on to the review. *Note*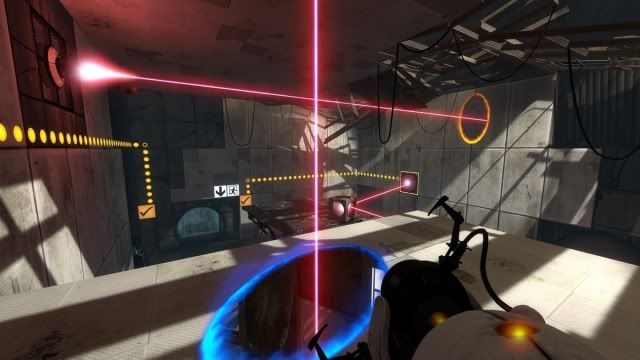 Hopefully by now everyone has played the unbelievable bargain that is the Orange Box. Besides having multiple games that wowed, it also had what became the gaming publics sweetheart. Garnishing excellent reviews on all accounts, by all accounts, the original Portal showed the industry that new genres can still be made. And Portal did not just exist as a new genre, it flourished. Anyone can mash up genres, but Valve made Portal something so distinctive and groundbreaking that it feels as if you are a kid, again, watching Star Wars for the first time. I could go on about the original Portal all day, but I'm not here to praise the first game, I'm here to see if the second game surpasses it.
I go back and forth on this, of course, the first of something will always be the most important, after all, you can only break the mold and create a new genre once. After you do that, you just have to keep pushing the envelope. And I have to say that Valve has pushed the envelope in all the right ways in this game. They made the game deeper, without making it too hard, they gave it more story without losing the originals personality and on and on.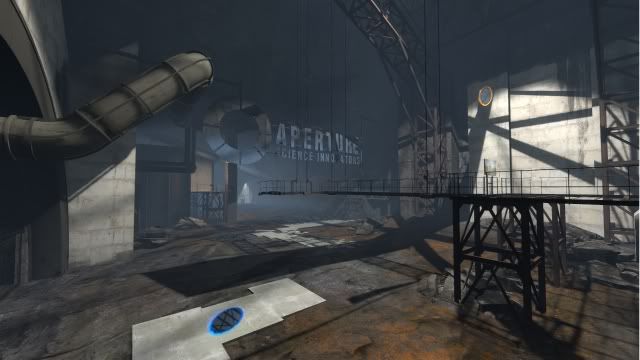 I say we should kick this review off with the puzzles themselves. Unless you have not been paying attention to anything about this game or it predecessor, you should know that this game deals with portals, go in one > come out the other. It is simple really, but when you have the ability to shoot those portals onto specific surfaces in puzzle rooms designed to bend your brain, then it can become a little more complex. And that was just the first game, in the sequel they thought it would be fun to play even more with physics, for science. Eventually the game will have you using gels that give the surfaces they are sprayed onto different characteristics, there is a bouncy gel, an accelerant gel and portal conductive gel. When you take all these elements and mix them in a massive brain teaser stew you get some impressive results.
The puzzles start out easy and ramp up as expected, and then take dips in difficulty when introducing new variables. I was dead set on not looking up any hints while completing the game and I am happy to report that apart from a few minor setbacks and hold-ups which I had to rack my brain over, I was able to realize my goal. Even though I am not the smartest apple, I would say that somehow, Valve has managed to make a puzzle game for me and my genius nerd cousin. A one size fits all puzzle, or at least terribly close. For those desiring the brain-melting difficulty of an Einstein level sudoku puzzle, you might want to stick around for some more difficult DLC. As of now, Valve has announced that there will be some free downloadable levels and chapters forthcoming (late summer I believe). Hopefully they will keep this trend and continue to bring substantial content (for free), and maybe even some user generated content, as well.
It is honestly quite impressive how they were able to make a game that was difficult but never felt like the answer was not right in front of you when. I have talked to a number of people who have said the same thing, it is hard, but also just at that sweet spot, just focus and troubleshoot for twenty minutes or so and bingo, you will get it. They did omit some aspects of the first game, though, they got rid of physically difficult puzzles. So once you find the lynchpin out you will be able to pull it off with relative ease. There is very little messing with tiny windows of time where you have to shoot something at just the right moment in combination of some difficult aerial maneuver and so forth.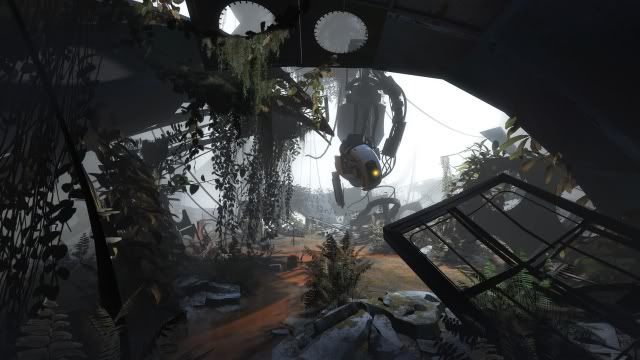 What is also highly refreshing about the game is the variation of environment. In the first game, there were essentially two, the test chambers and the not so friendly underbelly of the Aperture Laboratories. That was about it; in this game, however, you get to see much more of the bizarre facility, and trust me, it is immense. And what is delightful about the way they walk you through the history of Aperture Science is that they never ruin the mystique. They never give you all the answers. As much as I want to know more, I also want to keep it a mystery. They make the history so fascinating through the fantastic characters and little bits of the story that you can not help but be intrigued by this most unusual company. They spoon tidbits out just the right pace, and really leave you fulfilled yet wanting more at the end. So expect to learn about the beginnings of the company, and to see its evolution over the decades. And all this history makes for a beautiful, stark contrast to the cold, robotic entity that it becomes. I often found myself forgetting the puzzles sometimes to ponder about what happened in certain areas, what places might have been used for, and how all the insanity broke loose.
I simply can not say enough about the atmosphere this game creates, for something so intriguing and awing, it is incredibly funny. The ironic and tongue-in-cheek performances by the main characters are simply perfect, the writing is witty and pitch-perfect in every way. And as you see the unfolding of the company you see that the early Aperture Science heads were just as out of touch with humanity as their futuristic computer successors. The way that computers can not comprehend what it means to be human in this game is subtly poignant, while outrageously funny. The game hits similar subject matter to the Bioshock series, but in my mind, with infinitely superior handling. Bioshock can be a little to obvious when drawing its analogies, like its holding up a sign saying "hey, games can be serious and metaphorical, look here!". Where as Portal 2 understands that, at its core, it is still a game that is meant to be fun, and thus, coats the philosophical boxing glove in some refreshing comedy marshmallows and uber-fun gameplay gum-drops.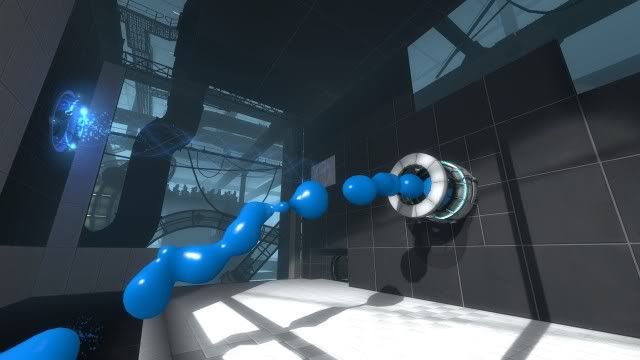 I played Portal 2 on PS3 and am happy to report absolutely no issues whatsoever. No chugging, no screen-tearing, quick load times certainly no crashes. So have no reservations on that front, this game is technically stellar. Of course, the game engine is so old you can't help but notice that things often look strangely angular, it is hard to put your finger on, but things just are not quite natural looking. Thankfully the human element almost does not exist, but when you do see yourself through the portal, animations plainly show the limitations of the engine. They more than make up for it in extraordinary animation of computer characters, though, if you have seen WALL-E then you have a close approximation of the caliber I am talking about, some times they seem remarkably alive. The sound fares the best technically, all the sound effects are spot on, and in lossless 7.1, they sound even better. The directionality is so strong it is scary. I would attribute part of this to the sparseness of audio, besides some ethereal scoring, the sounds are singular. As you can imagine when you are in a giant facility all by your lonesome, many times in a secluded test environment, things get quiet. So you can imagine, when you do hear something it is easy to pinpoint exactly where that sound came from on an exceptional surround sound system. It is remarkably similar to the experience you get while playing Dead Space. But do not be mislead, the game can get very loud, the music very intense and the action heart-pounding.
If you want a game that will give you some of the most riveting 6 hours of your life, then Portal 2 is your game. With first class gameplay, innovation, intrigue, performances and soul, Portal 2 certainly gets a…
5 out of 5