The dawn of the superhero has come and gone, and while it seems like some of us are done watching famous actors play our childhood heroes with campy dialogue and hit-or-miss CG work, television doesn't have the same problem. Depending on the comic, they have thousands upon thousands of characters, universes, and story arcs to play with and no publisher knows this better than DC. Justice League set the bar, but other shows such as The Batman and Teen Titans have failed to meet up to expectations. Enter Young Justice, a new animated DC cartoon based on the comic of the same name. Its premise of sidekicks who want to step into the spotlight is intriguing and luckily, for the show and fans of the comic, these sidekicks deserve to be called heroes.
At a time where superheroes are fairly new to the world, the Justice League are active and constantly in the spotlight, to the excitement of the populace. Their sidekicks, on the other hand, are becoming more and more irritated with the lack of responsibility given, and its here where Young Justice starts. Robin, Aqualad, Speedy, and Kid Flash– the apprentices of Batman, Aquaman, Green Arrow, and The Flash, respectively– think they're finally getting to be a part of the League after years of hand holding and training. When they get quite the opposite, they decide enough's enough; Speedy leaves Green Arrow's side permanently, and the other sidekicks go out on their own to investigate a fire at Project Cadmus. To spoil the rest would ruin all the fun, but I will say that Young Justice definitely taps into the troubles of its young protagonists. Though some more time is needed to prove their claims of ridiculous hand holding, they do come off as human relatively well with smart dialogue and voice acting (Robin's voice, done by Jesse McCartney, may be incredibly off-putting to some).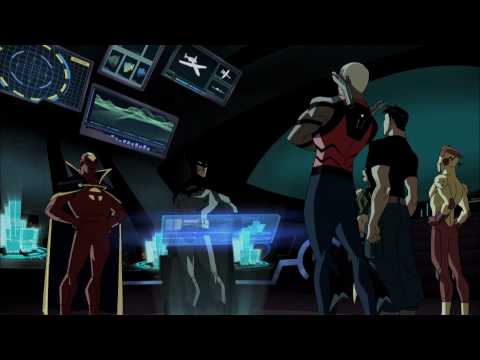 If you were upset by the anime-inspired look of the Teen Titans series, you should be more than happy with Young Justice's animation style. Characters look and move realistic and the fight scenes look real and convincing; when Superboy punches Aqualad, it looks like it has impact to it. The show doesn't forget that the main characters all have senses of humor as well; Kid Flash's inability to properly stop himself after speeding and Robin's questions about why anyone isn't ever "whelmed" are solid attempts at humor.
There's a small line near the end of the premiere where Superboy tells some members of the Justice League, "It's simple. Get on board, or get out-of-the-way." And that's kind of how Young Justice is getting it's point across; either you like it or you don't. With that said, its hard to imagine this show stumbling after putting out such an impressive premiere.
Score: 5 out of 5
This review was originally published following the one hour premiere of Young Justice in November 2010. The series will air new episodes starting this Friday, January 21.